1/9/2019

What should you expect when purchasing a home in 2019?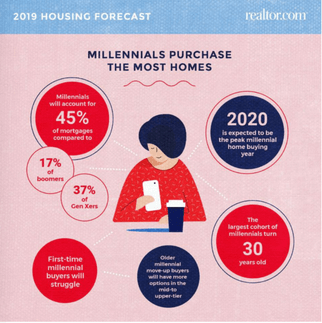 Inventory Levels to Rise
First time home buyers will be met with more purchasing opportunities in that bidding wars are decreasing and current inventory is leveling out. Any new construction and soon-to-be listings will be to the buyer's favor as competition lessens.
Home price growth to continue slowing
The appreciation of home prices is expected to ease near 3% based on the expected leveling out of home inventory.
Tax plan remains a wild card
This April will be the first time taxpayers will enounter the new tax plan, however it;s still up in thw air as to whom will benefit most. Some homeowners will have lower rates and a higher standard deduction, boding well for last year's home buyers, but it's still too soon to tell.
​Mortgage Rates to Continue Rising
Mortgage rates have remained low over the past couple of years with the expected moderate fluctuation. However in 2019 the 30-year, fixed rate mortgage will hover near 5.8% – a rate not seen since 2008.
Millennials to Continue Buying Most
The largest segment of buyers in 2018 was Millennials, and will continue to be so in 2019. Millennials account for 45% of mortgages, compared to 17% for Boomers, and 37% for Gen X.
Home Buying Power to Decrease
Buying power is down 10% since the beginning of 2018. As mortgage rates rise in 2019, the monthly mortgage payment will be seen as less borrowing capacity. In response to less buyers at each price point the market responds with a slow in sales and leveling of prices.