6/6/2019

 ​Does your yard look lackluster? Dead grass, withering flowers and fading lawn décor? This early summer heat is doing a number on yards everywhere, but it doesn't have to tarnish yours! Keep reading to find out how!

NATIONAL MARKET UPDATE
Millenials are moving into the housing market
52% feel financially ready to buy a home
70% said they  are willing to cut back on extra curricular activities to save for a home

Millenials make up the largest share of homebuyers, yet this generation has the lowest home ownership rate- that may be about to change. The reasons for this slow start are student loan debt and delayed marriage. Some of the older Millenials graduated during the last recession, causing some trepidation on their part in wanting to make the leap from renting to home ownership. As many are getting  to the top of the age bracket of their generation however, they are making more serious strides to settling down into home ownership and starting families.  Data from CNBC Real Estate.

​LOCAL MARKET UPDATE
In Berkeley County, new listings have seen a rise of 5.1% since this time last year, closed sales have seen an increase of 11.1% and days on market has decreased 13%.

In Goose Creek and Moncks Corner in particular, both new listings and closed sales have seen a rise of 14.4% since this time last year, with an inventory decrease of 6.9% and days on market decrease of 14%. This indicates that there is competition on inventory, creating more demand and thus fewer days the homes are sitting on the market. This is continued good news for home sellers.

The Charleston Peninsula has seen an 8.3% increase in new listings since this time last year, a whopping 35% increase in closed sales and a 26.6% decrease in median sales price, making this area a hotspot for homebuyers. Data from the Charleston Trident Association of Realtors (CTAR)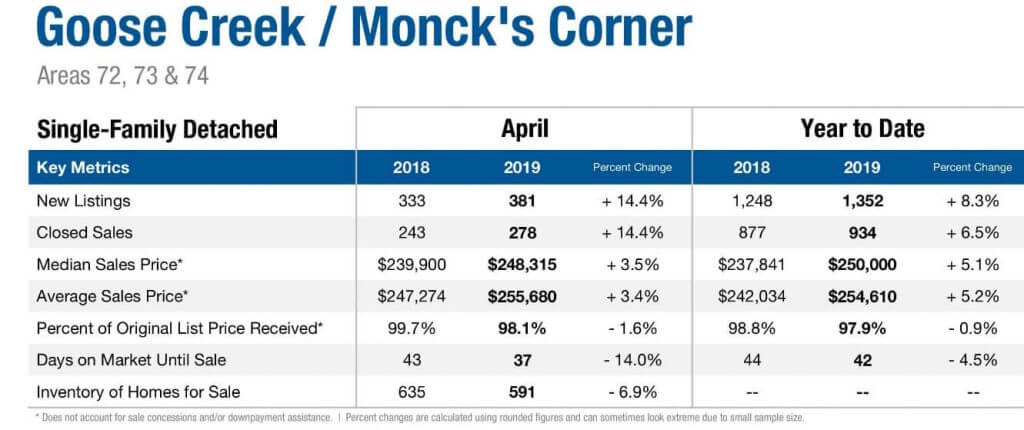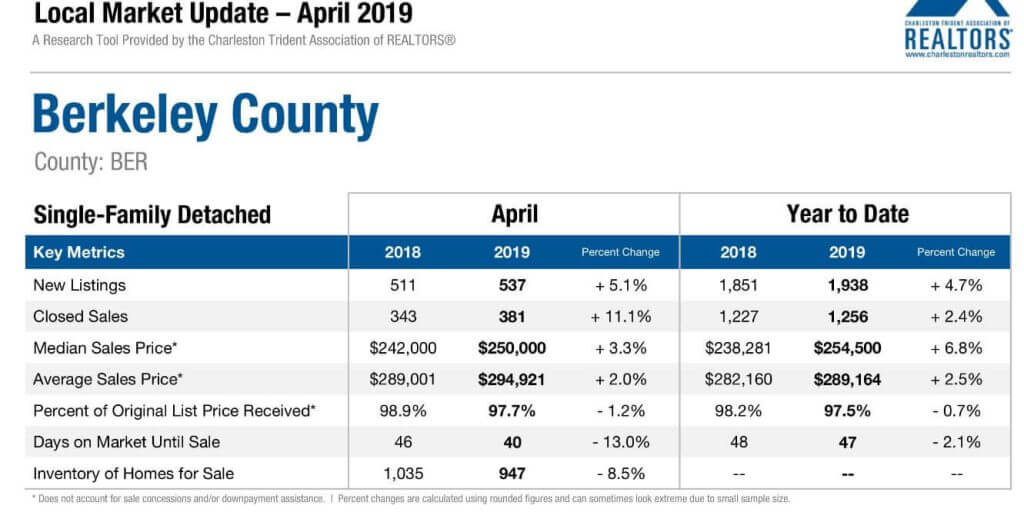 Carolina One
With 440 properties going under contract, last week was tied for the fourth strongest single week on record in the Charleston MLS (coming on the heels of the third strongest week ever last week and two weeks ago was the "other" fourth strongest week ever).
This also marks the 11th consecutive week with over 400 contracts written…there have never been more than 6 consecutive weeks over 400 contracts written before…and only 43 all time.
The last 11 weeks are the busiest 11 consecutive weeks of contract writing activity ever in the Charleston MLS (4,650 contracts written this 11 week period versus 4,573 in the previous "best" period).
TIPS TO MAINTAIN CURB APPEAL UNDER HOT TEMPERATURES
Lawn Care Tips:
Water the right amount and at the right time of day
Watering your lawn during seasons of high temperature and possible drought is a necessary evil. If you're spending extra money to keep your lawn hydrated, make sure it's not a waste- the time of day is essential to ensuring your efforts are not only not going to waste, but also not doing the opposite of what you're seeking. Be sure to water your lawn in the early morning hours or late at night when temperatures have dropped and the sun is not directly on the lawn. Also be sure to water your lawn enough. While most homeowners are content to just run the sprinkler several minutes once or twice a day, studies show your grass needs 1 to 1.5 inches of water a week, about 30 minutes a day.

Use the right kind of fertilizer at the right time
Do your research on what the best fertilizer is for your lawn type. Even if a certain fertilizer is approved for your lawn type also take into consideration how temperatures will affect the growing ability of your lawn. If you're unsure visit your local feed or home improvement store and ask an associate in the garden center for materials or information on the best type of fertilizer and fertilizing best practices. Truly the best time to fertilize your lawn is in the Spring or when the grass is not under drought-like conditions.

Don't mow so often
Mowing too frequently (or when the grass is still very short) kills the grass by not allowing it time to replenish. This is especially true in hot temperatures. While not waiting until the grass is so high it's an eyesore or HOA concern, wait long enough that it's not constantly being reduced to the bare roots. Find the happy medium for your grass and stick with it. Most grasses should be cut no shorter than 2.5 inches, or once every one to two weeks.

Garden Tips:
Water early or late
Water your flowers and plants just before it gets hot or right before sundown. Your garden will wither if watered during the heat of the day, but should have seen a little bit of sun before watered. During the summer months some time between 8 and 9 am or between 6 and 7 pm.
Find shade where needed
Some plants require partial sun. Be sure to read about how much sun each type of plant requires. Even those that require full sun may do well to be pulled into the shade (if plants are in pots or moveable containers) during extreme temperatures (~90-100 degrees). Herbs especially, while benefitting from a lot of sun, if given too much will dry up and renders your herbs flavorless.
Pick the right plant partners
Ensure your plants are with good roommates. Some plant varieties take over your garden with their roots and/or foliage. To ensure all your plants are getting the sun and water they need without being robbed or stripped of these essentials, do research on which plants make good partners and in which types of beds/pots/planters.
Home Tips:
Maintain your foundation health in the drying heat
The foundation of your home is in part dependent upon the soil health surrounding it. In the hotter drier months the soil around your foundation may be stripped of water and shrink away from the base of your home. To avoid this, water your lawn regularly (and evenly with a sprinkler system) and refrain from planting trees and bushes with invading roots too close to the perimeter of your foundation.
Avoid roof damage from poor circulation
If your attic does not have proper airflow (and many don't) humidity and moisture can build up and cause your shingles to deteriorate quickly. To avoid this maintain your ducts and ventilation properly. The heat can also exacerbate expansion of your roof and thus warp or crack your shingles increasing the risk for leak. To prevent these issues consider decreasing moisture by coating and sealing the roof with moisture barriers. Also be sure to have your roof inspected regularly.
Keep humidity levels in check to avoid hardwood floor warp
Hardwood floors can also warp from humidity and heat. Moisture causes the wood to expand and buckle, pulling it away from the edges and eventually splitting. Whole house de-humidifiers can mitigate this risk by regulating humidity in your home. Between 35-55% is the max humidity level they should be exposed to in your home. Also try to avoid cleaning your wood floors with excessive amounts of water to restrict the amount of moisture that seeps in.